Kådsalva - Resin ointment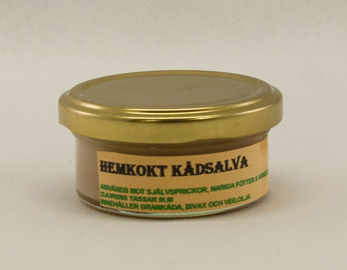 Pris - Price:
75 kr
Inkl. - Inc 25% Moms - Tax
Art.nr:
P686328
Antal - Quantity:
Finns i lager - In Stock
Hemkokt kådsalva mot självsprickor, nariga fötter och händer. Djurens tassar mm.
Innehåller grankåda, bivax och vegetabilisk olja. 50 g.

Homemade resin ointment. To use against chapped hands and feets. Cat and dogs paws.
Contains resin from spruce, beeswax and vegetable oil. 50 g.